Why and How Dental Clinics in Costa Rica Hold Their Own With Those in the U.S.
Due to high medical costs, patients located in the United States are heading overseas for medical procedures. Medical tourism is one of the fastest growing industries in the world. Although it doesn't get as much as medical tourism, dental tourism is a fast-growing industry as well.
One of the reasons is because even though people in the United States don't pay as much attention to dental care as they do to medical care, dental care can be just as important as medical care. Not only that, but in many cases the cost for dental procedures, because they aren't as well-respected, can be more than the costs for medical procedures.
Best Dental Clinic Costa Rica – Just as Good as U.S. Clinics
Those providing dental care in Costa Rica are just capable as those in the United States, or anywhere else in the world. In fact, the requirements to perform dental procedures in Costa Rica is on par, and in some ways exceeds those dental procedure requirements in the U.S.
Costa Rican dentists
Almost all dentists in Costa Rica are highly-qualified.
Costa Rican dentists must have at least 5 years of college followed by a further three to four years to become specialists. A Costa Rican education is considered one of the best in all of Latin America
In addition, all dentists must be registered in the Colegio de Cirujanos Dentistas, or National College of Dental Surgeons. Registration guarantees that the dentist is licensed to perform the services he or she claims to be able to perform.
Not only that, but it's easy to find a registered dentist in Costa Rica. The Costa Rican Health Chamber (PROMED) certifies dental clinics. PROMED ensures that dental clinics and dentists comply with not just Costa Rican standards but also international standards.
This means procedures are guaranteed to be performed in a clean and safe environment. Costa Rican dentists are also encouraged to keep learning.
Care Overseas' Costa Rican dentists are bilingual, U.S. trained and are members of specialty boards in the U.S.
Dental procedures
Registration with the Colegio de Cirujanos Dentistas ensures that dentists perform procedures they're trained to perform. Not surprisingly, because dental care in Costa Rica is held at such a high regard, many dentists in the country are capable of performing multiple dental procedures.
Flying to Costa Rica
Although you will need to secure flights to get to Costa Rica, the cost you will spend on your dental procedure will more than make up for the cost of the flight. For example, most dental insurance in the United States won't cover many dental procedures.
Dental Tech
Costa Rican dental clinics have the most up to date dental technology. Dental care tech can be even better in Costa Rica than in the United States because the cost to run dental clinics in the nation is much less than it costs to run a clinic in the U.S.
High Tech Dental Clinics in Costa Rica – Flikier Dental Institute & DDS Dental
Almost all dental clinics in Costa Rica use the most technologically advanced equipment. More importantly, dental clinics like Flikier Dental Institute and DDS Dental also offer fair prices and treat patients well.
Flikier Dental Institute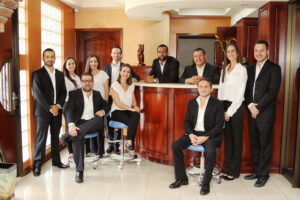 Led by Simon Flikier, the Flikier Dental Institute is one of the most respected in Costa Rica. For over 14 years, it has treated international dental patients. It's specialties include providing dental implants.
Dental implant procedures in the United States are cost prohibitive because insurance doesn't cover it. That's why a dentist like Simon Flikier, who graduated from Boston University in 2003, built the Flikier Dental Institute. Flikier is a member of both the American Dental Association and the Colegio Cirujanos Dentistas.
Many of the other dentists at the Flikier Institute, like Dr. Llan Grunhaus, studied in the United States. Grunhaus is a member of the American Association of Periodontics. Dr. Ivan Navarro completed a fellowship at the University of Miami. Dr. Dashiel Carr graduated from the University of Miami and is a member of the International Congress of Oral Implantology.
Every dentist at the Flikier Institute brings not only experience, but also education and the desire to do what's right for their patients.
DDS Dental
Like the Flikier Institute, DDS Dental also specializes in invasive dental procedures. DDS Dental makes not that it specializes in the All-on-6-5 and All-on-4-8 dental implant procedures. One of the advantages for international patients looking to get dental care at DDS Dental is that they won't have to travel far. DDS Dental is located 20 minutes from Juan Santa Maria International Airport.
DDS Dental's founder, Dr. Vinicio Prada, graduated from Louisiana State. He founded DDS Dental in 1994 and serves as its Clinical Director. Dr. Prada is considered one of the best prosthodontics in Costa Rica.
Best Dental Implant Clinics in Costa Rica and U.S. Dental Clinics Don't Compare in One Aspect…Price!
Although by now you are aware that dental clinics and dentists in Costa Rica are just as qualified, if not more so, than many in the United States, there is one aspect that makes dental care different in the U.S. than in Costa Rica.
When you get a procedure done in the U.S., you're going to find your pocketbook much lighter afterwards. Not so in Costa Rica. Most insurance only covers 50% of invasive procedures like dental implants.
The cost for a dental implant can run up to $6,500. The very best dental insurance will only cover half of that. In Costa Rica, the average dental implant starts at $975 on the high side. It goes down from there.
The cost difference is so tremendous that those traveling to Costa Rica for dental procedures can buy their tickets, stay at a nice hotel, and make a vacation out of it while still getting high-quality dental care in incredibly high-tech dental clinics.
Thinking of Getting a Dental Procedure in Costa Rica? Let Care Overseas Help!
Care Overseas believes that all people should have access to affordable, high-quality, dental care. Their goal is to hand hold Canadian and U.S. citizens through the entire process: from finding the right dentist to setting up their stay in Costa Rica.
Head to Care Overseas now and get a quote from the Flikier Dental Institute or DDS Dental. You can also call us at 866-778-2766 and we walk you through the process. Dental care shouldn't be stressful. Let Care Overseas help!